Weddings 1990's Vintage A Bride In Her Grandmother's 1990's Vintage Wedding Dress, and; Her Chic North London Wedding
What a delight to share today's wedding today. The bride wore her grandma's dress from her second wedding in the 90s, and it is chic, sophisticated and totally unique.
On 21 April 2021 Jessica and Elliot wed in a low-key, micro wedding at Clissold House, Stoke Newington, London. The couple who work together at Pitch Golf, Jess as COO and Elliot as co-founder, were witnessed by their closest family and friends before heading back to an Airbnb, where they tucked into a feast prepared by Ottolenghi.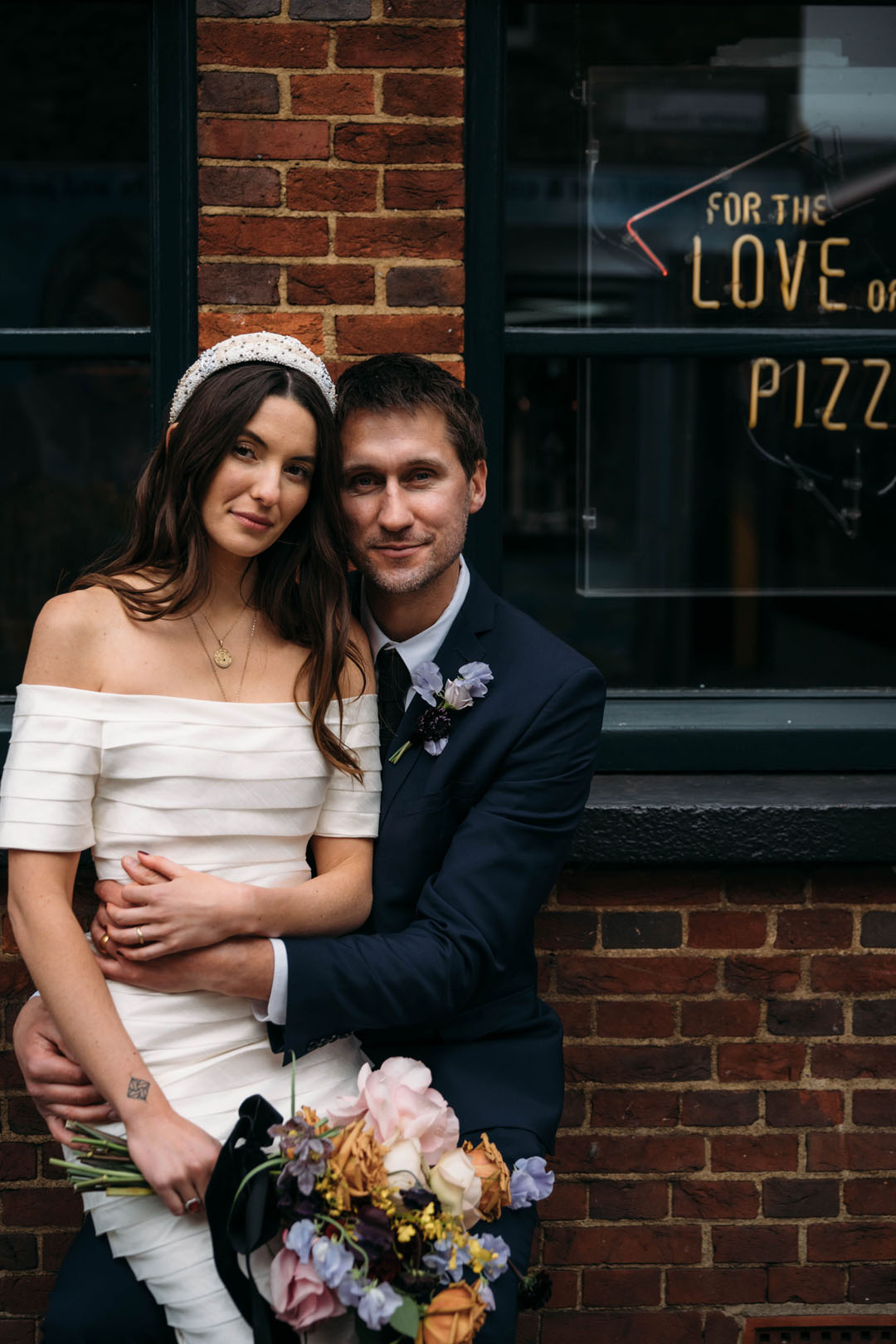 "Clissold Park is our favourite. At the time, it was where we walked our dog Alfie every day. We've moved just up the road but still visit regularly – it has a special place in our hearts."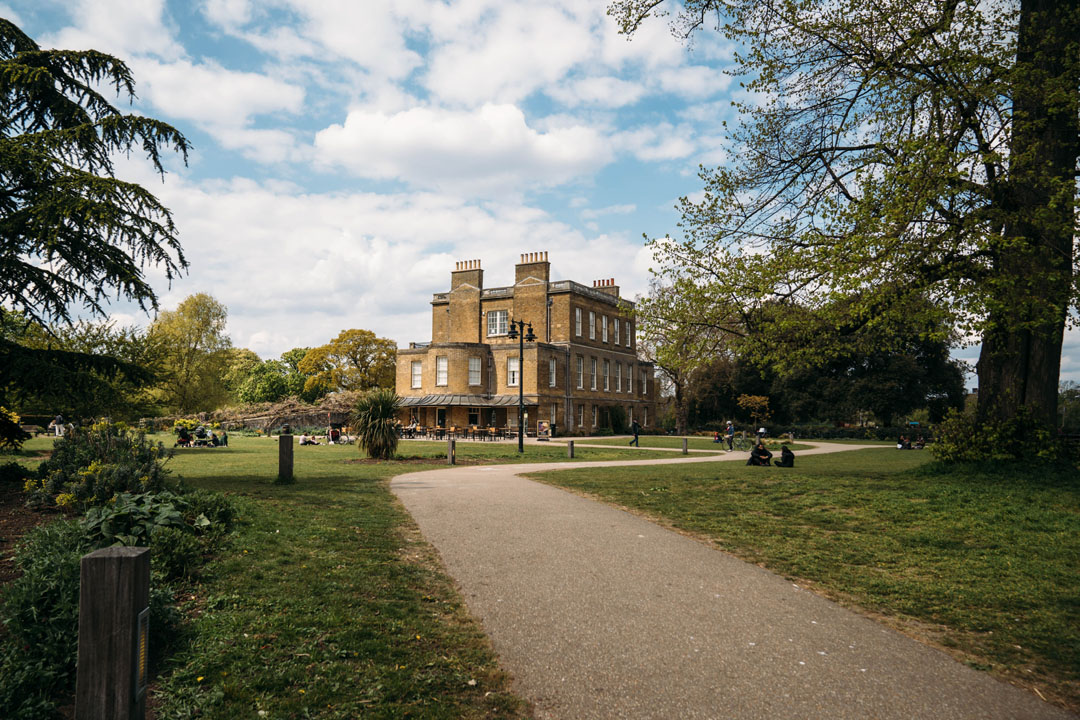 The couple met on Hinge when it was first launched and have spent virtually every day together since their first date.
"Elliot proposed in a forest in Kyoto, Japan. We flew out in March 2020 a week before the first lockdown was announced."
"We had been there for about a week and it was cherry blossom season so we had spent the day walking through pink canopies and eating ramen."
Jess had two grown-up bridesmaids, who each chose their own gown.
"Lora wore a green dress from Kitri Studio and Alice wore an orangey-copper one from French Connection."  
"I loved that we ended up having a variety of colours as it makes the photos more interesting, aside from them both feeling comfortable in their own styles."
"However, we did realise on the day that we were the colours of the Irish flag.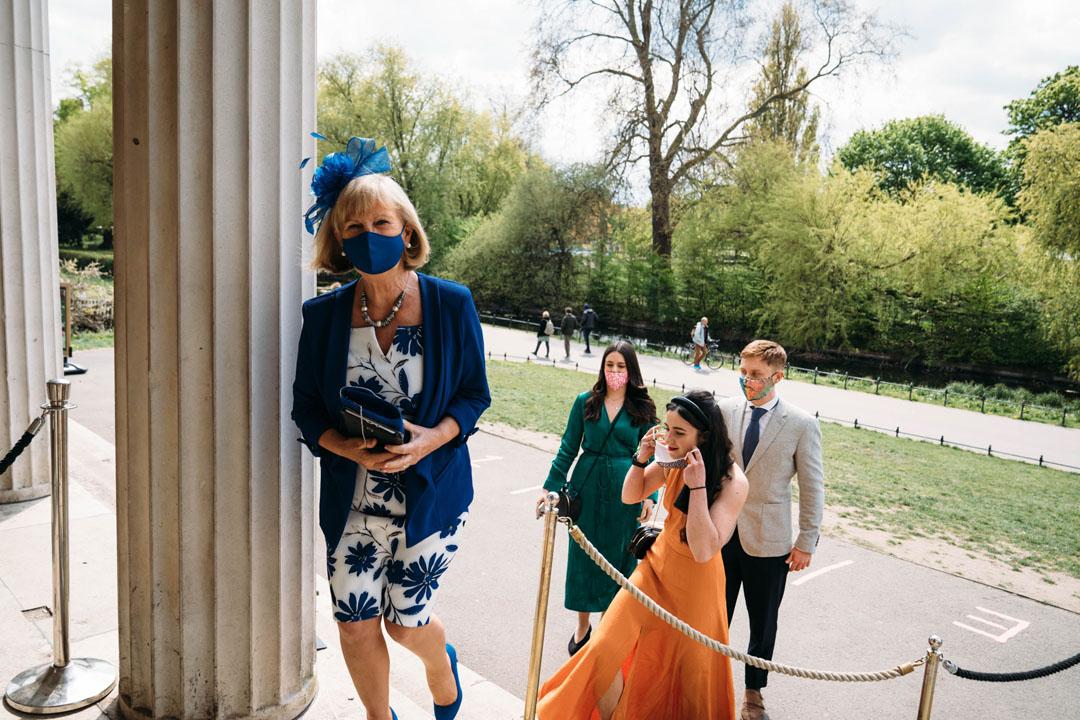 "We walked through Arashiyama Bamboo Grove then carried on our own hike up through a valley behind and that's where he proposed. We kept it secret from everyone until we were home to enjoy the moment, just us two."
"Our trip was meant to continue in Japan for another week and finish with two weeks in the Philippines, but the UK lockdown meant we had to get a flight home and skip the Philippines."
"We were engaged for just over a year before getting married, though our original wedding date was actually planned for 25 March 2021, exactly a year after we got engaged."
The bride hopped into an Uber to travel to Clissold House.
"Elliot and I chose to walk in together. I think my dad will get to walk me 'down the aisle' on our big wedding celebration day."
"We walked in to 'You Send Me' by Sam Cooke, such a beautiful song."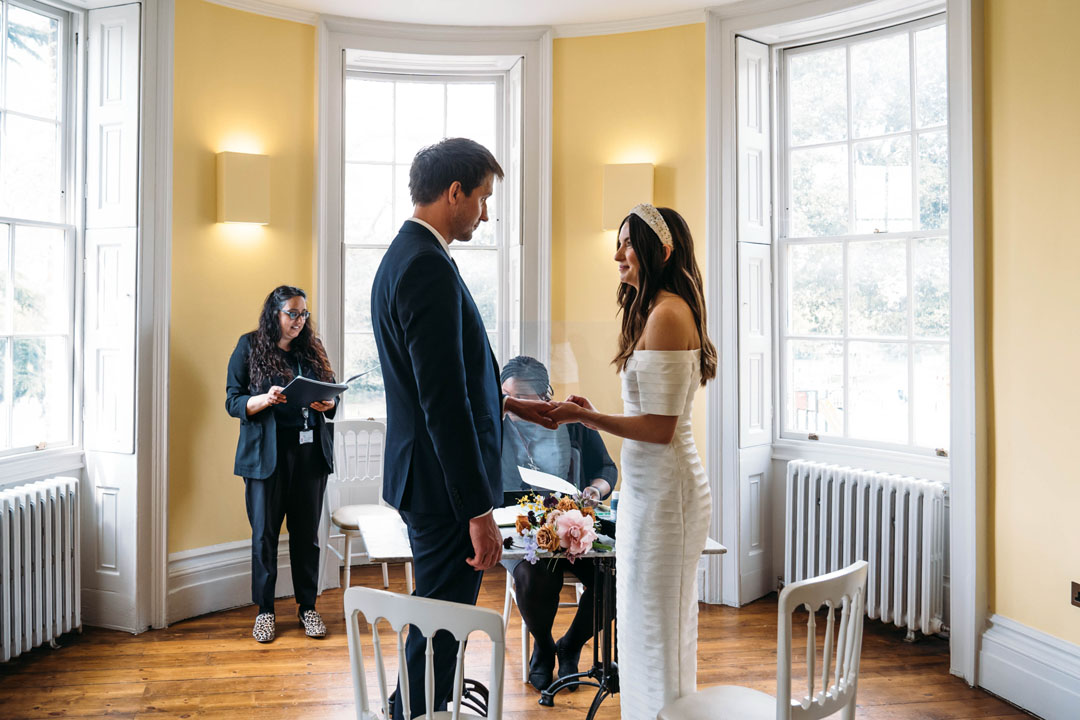 The ceremony was led by Hackney Registrars Niala and Ayo.
"They were so lovely and cheerful the whole ceremony! They told us on the day that we would be one of the last couples in the UK to get the written marriage certificate as everything is now going digital."
"It was also Ayo's last marriage that she was officiating so an emotional day for all."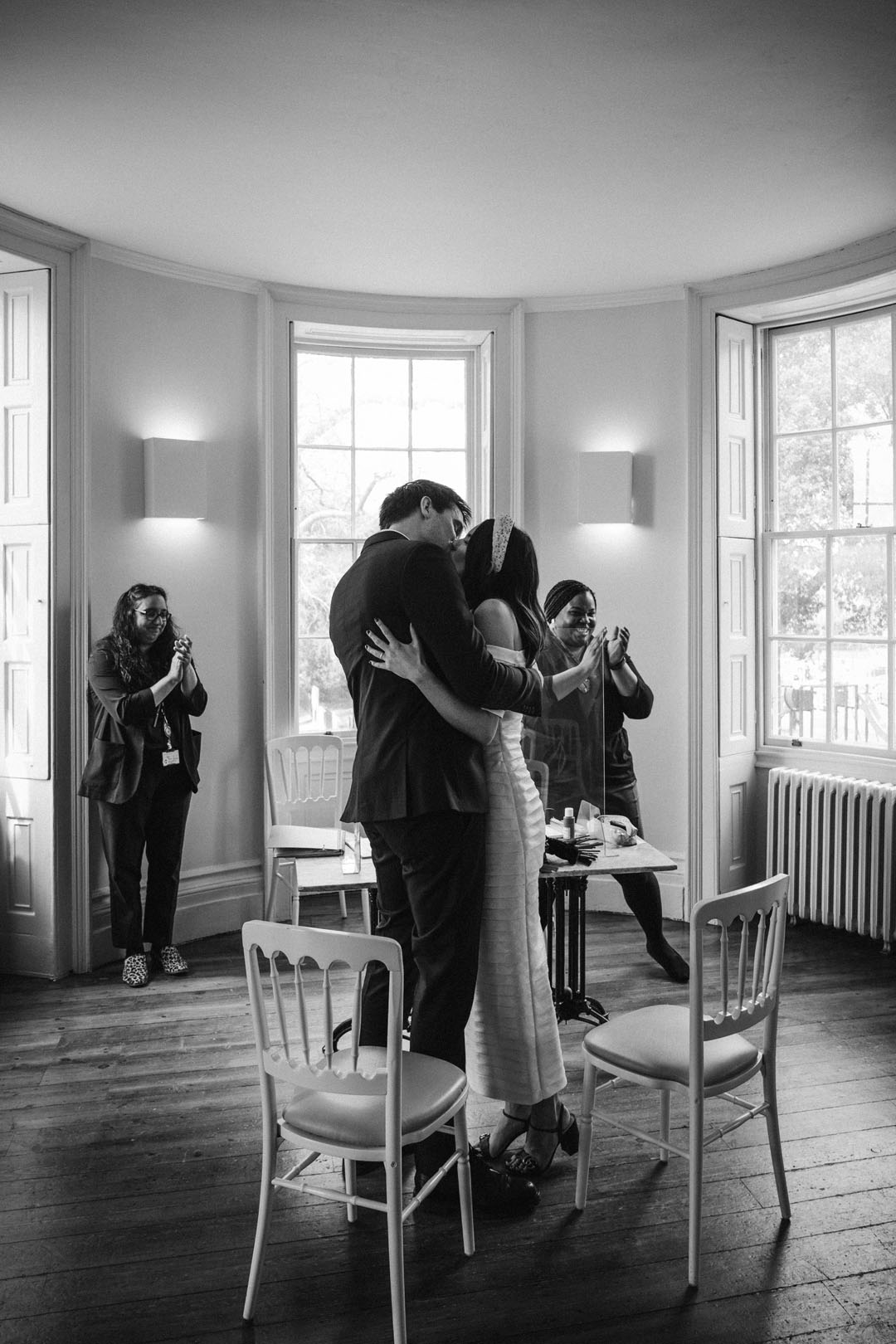 "We decided we wanted our mums to be our witnesses as traditionally the fathers get all the fun things, such as speeches and walking down the aisle."
The couple exchanged family rings, a stand-in because of Covid.
"We exchanged my grandma's and Elliot's dad's rings as Covid meant that we ones we had designed by Kamilla Rubergwere with her in Copenhagen so we were unable to collect them."
Jess and Elliot pushed their wedding date back a month and had to abide by some restrictions on the day.
"We were still in a partial lockdown with social distancing and masks to be worn at the ceremony but we decided that as there was no definite end date to the restrictions, we didn't want to endlessly push our legal ceremony back."
"We had always planned to do a bigger wedding party in the south of France in September 2021 but that's now being reorganised for the third time. We'll have reorganised weddings five times in total."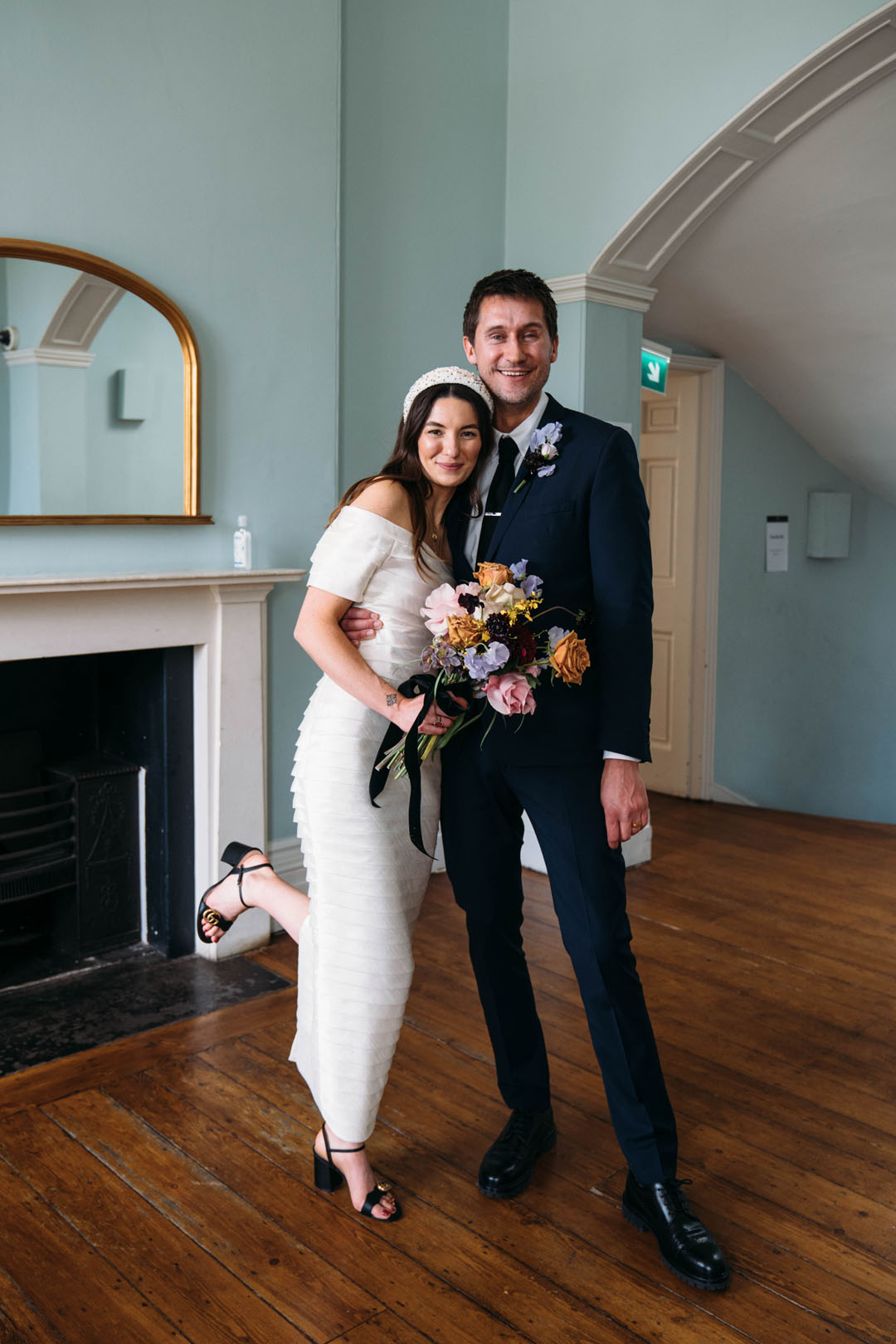 "We had to change the way our day looked for our legal ceremony wedding. We had always planned for it to be just family so we're lucky that the venue's maximum room capacity was cut to exactly twelve."
"We also wanted to have dinner and drinks all together in a local pub or restaurant after."
"The restrictions meant that this couldn't happen so we had Ottolenghi deliver tonnes of food and canapés and we put on our own dinner at the Airbnb where our family was (legally!) staying."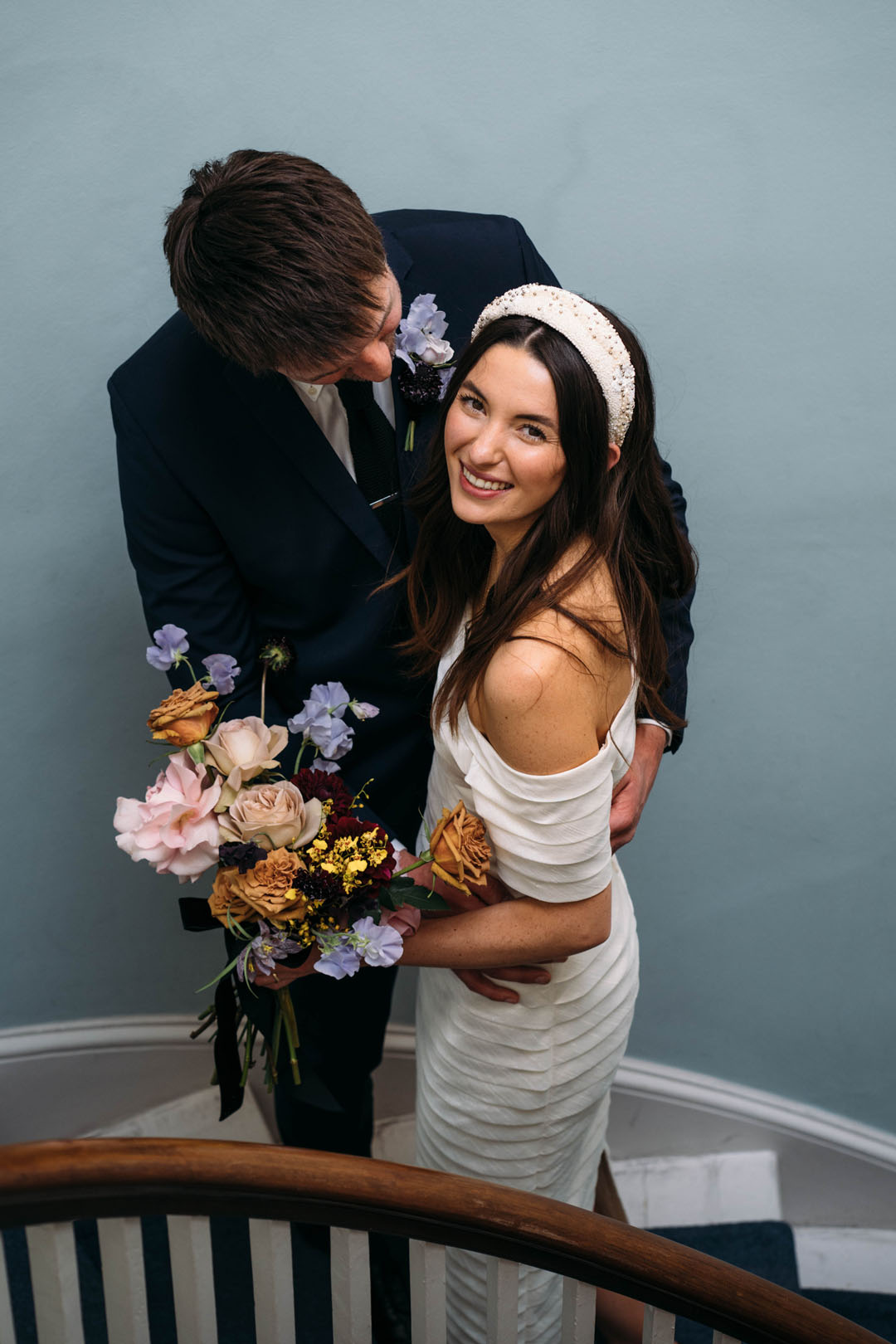 The day's look was classically modern and elegant, with plenty of soft blooms from Sage Flowers adding colour and texture.
"We are super-lucky to know Iona from Sage Flowers and definitely wouldn't have wanted anyone else to do them."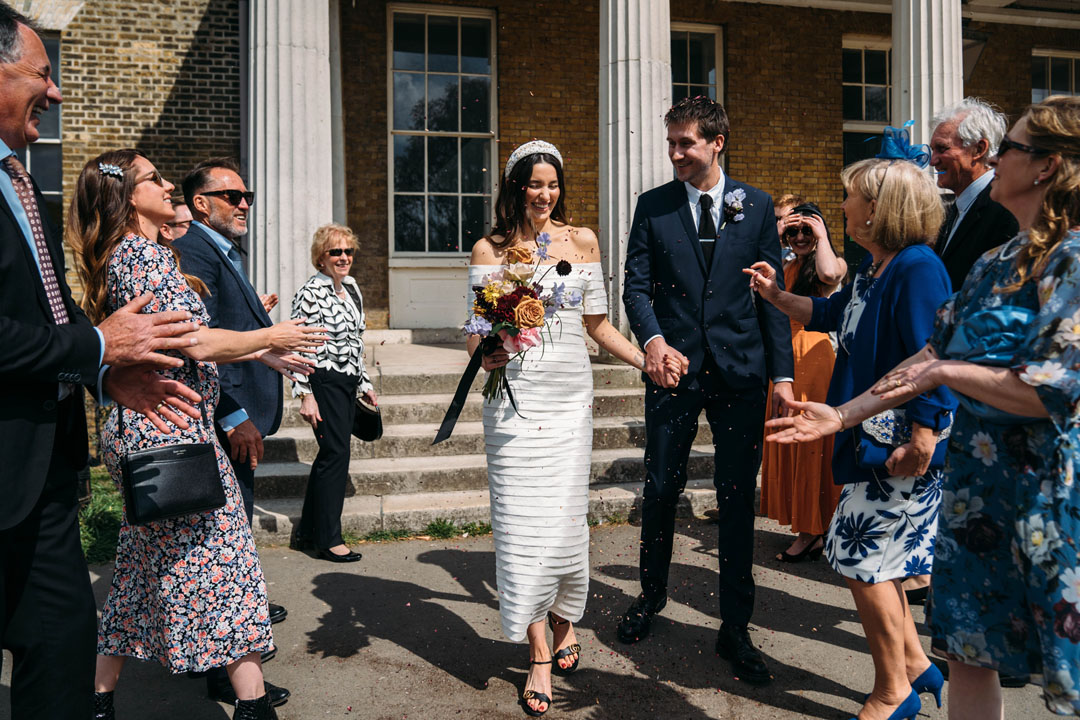 Capturing the day in this crisp, vibrant style was Joanna Bongard Photography, a Love My Dress find for Jess.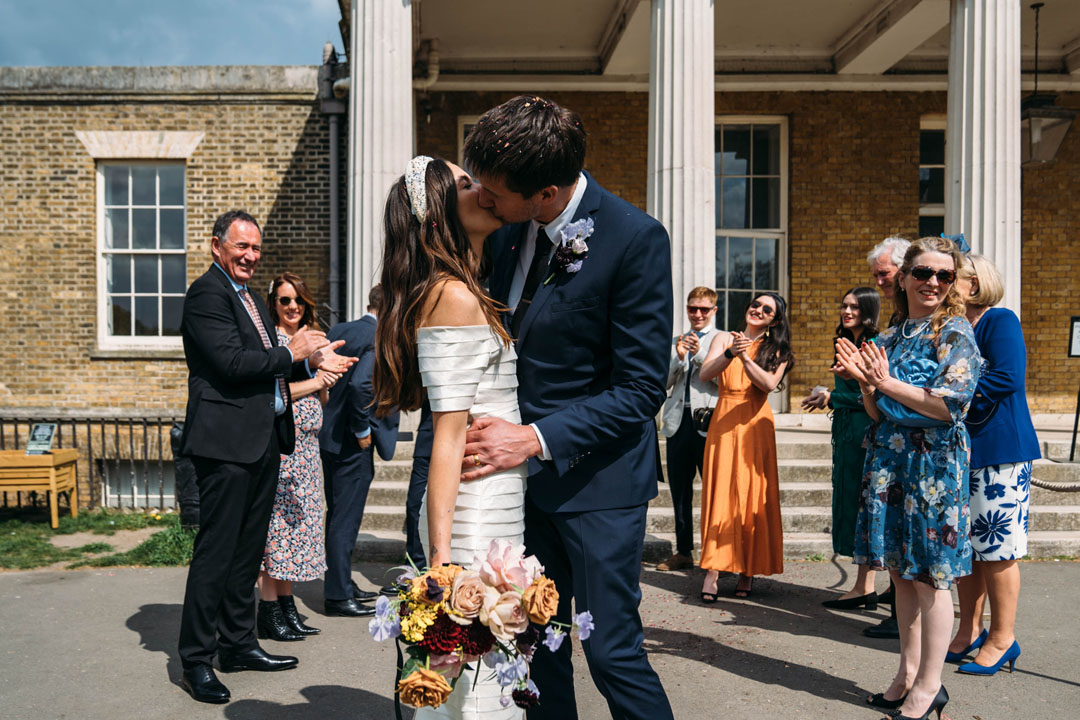 "I found our photographer Joanna Bongard through a wedding featured on your website. I used your Instagram for inspiration, then would follow links through to any weddings I liked the look of to see their ideas. The Love My Dress Wedding Directory is useful too."